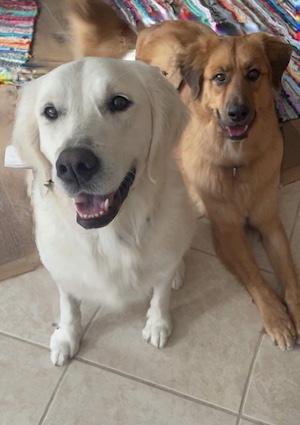 Let us be your pet's home away from home while you're away
We are proud to offer climate controlled interior boarding for our furry friends. Our staff understands that leaving your pet under the care of somebody besides yourself can cause some anxiety for you and your pet. The good news is that your pet probably already knows most of our staff as their healthcare providers. If any medical concerns arise at any time while boarding, who would be better prepared to address them than the people who are familiar with your pet.
We have a fenced-in outdoor exercise area and your canine friend is walked numerous times during the day at no additional charge.
Boarding reservations should be made well in advance especially during the holidays.
We encourage you to bring your pet's usual food. We ask you to only bring enough for the length of the stay in daily portions and labeled with your pet's name. You can certainly bring his or her favorite toy and blanket. However, we cannot be responsible for the loss or damage of any of these items.
Each of our canine boarders will receive a bath with a hypoallergenic shampoo before going home. Cost is dependent upon breed, size, and length of coat. Let us know in advance if your pet requires a special shampoo.
Our staff is confident that we can provide your friend with a safe and pet friendly boarding experience.
We require proof of current vaccinations for all pets boarding with us.
Dogs must be up to date on Rabies, Distemper/Parvo, Bordetella, Influenza, and must be free of external and internal parasites.
Cats must be up to date on Rabies, Feline Distemper (FVRCP) and must be free of external and internal parasites.
To make a boarding reservation, please call us.